The annual JCTC Student Success Awards were held this past Thursday night where Jesenia Avila-Ugalde and Frida Gonzalez were introduced as the co-recipients of the CAT Program's Outstanding Achievement Award. This is the first time that two students were named for this award.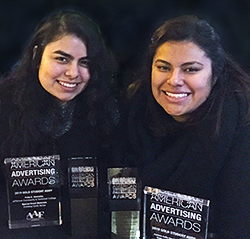 "What do you say about two people you never want to see leave the program?" That's what Fred Crawford said when I asked him, "What do you say about these two students?"
Both of these young women are the epitome of what a student should be. Their positive attitudes, their work ethic, their talent, and their love for their work is apparent every day. Both of them put their hearts and souls into their work. They work tirelessly toward perfection.
Their eagerness to share new things they have learned when away from the classroom are inspirational to students and faculty alike.
Jesenia graduated in December with High Distinction and Frida will graduate this semester with High Distinction. Both will have completed two separate tracks in the program: Advertising Design and Commercial Photography.
In our CAT Program Student Show, The CATTYs, between them they have 9 Gold, 10 Silver, and 2 Bronze CATTYs. Frida also has a Best of Show CATTY Award.
Frida and Jesenia both participated in the annual Louisville Advertising Awards this year and last and both have won their fair share of hardware. This year Jesenia won 1 Judges' Choice Award, 1 Gold ADDY, and 1 Silver ADDY. Frida won a Judges' Choice Award, 2 Gold ADDYs, and 1 Silver ADDY.
In addition, Jesenia's packaging project, Bunneez, is still in the running for a national advertising award and will be competing in the National ADDY competition in late May.
Both are now working in the design field and both are working at least two jobs that I know about. They are in high demand.
These young women will be truly missed in our program but we'll be hearing a lot about what they do in the future because they like to talk. And I know it's gonna be fantastic.
I hope you all will congratulate these two outstanding students when you see them. They deserve it.