Brilliantly designed Hollywood Movie Posters by former JCTC student are now on display in the Phyllis Krantz Art Gallery in Chestnut Hall.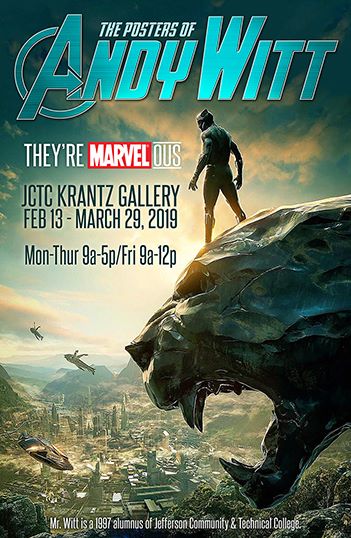 The posters, designed by Andy Witt, JCTC alumnus, feature several recent and very popular poster designs for Marvel, Disney and Netflix Studios.
After attending Jefferson, Andy got his Bachelor of Science degree in graphic design from Art Institutes of San Diego and is an Art Director for Lindeman & Associates, a Key Art Advertising Agency in Hollywood.
Andy recently moved back to the Louisville area but still works remotely for Lindeman, designing visual advertising for movies, TV shows and video games.
The exhibit is showing from February 13th to March 29th at the JCTC Krantz Art Gallery in Room 116 in Chestnut Hall.
There will be an Artist's Reception: Wednesday, February 20th from 4-5:30 pm.
Gallery Hours are Monday thru Thursday from 9-5, and Fridays from 9-12.
Krantz Art Gallery
110 W. Chestnut
Louisville, Kentucky 40202 United States